Everyone likes crazy funny stories right? Well I have one.
My best friend and I were sitting on the couch starting a blog. My mom walked through the garage and outside to throw away the garbage. She opened the side door of the house and let out a small shriek.
"A cat just ran in!" She exclaimed.
"Ours?" I replied.
"No." She said.
Enya (my friend) and I leapt off the couch and into the garage to see what she was talking about. There was a tiny kitten hiding behind some shelves in the garage. We tried to get him out, but he ran into the living room through the open door and under the couch. Now, here's the crazy part. When we tried to get him out from there he bolted, faster than any other cat we'd ever seen, up the stairs and into my bathtub. We figured that was a pretty safe place for him, since we have another dog and cat. I put a towel in the bathtub so that his little paws wouldn't slip and slide around and we gave him some food.
A couple days later we took him to the vet. He weighed a pound and a half, and the vet said he was about six weeks old. He had a terrible case of fleas, but was too young for flea medicine. The vet couldn't test him for any diseases because he didn't have enough blood for them to safely draw. During the appointment things got bad.
I'm not sure what was wrong, but the vet said he might not make it. She said that he would either get a lot better or a lot worse. Luckily, he got better very fast. Somehow his fleas went away. He still lives in my bathroom, but we let him out for a little while at a time to play with him. He has been with us for almost three weeks now and we love him so much.
We kept bouncing names around for him. He needed a really good name that fit his blonde fur, big green eyes, and little white paws. After considering Jasper, Fitzgerald, Felix, and many others, we decided on Ezra.
After asking all the neighbors, we don't know where he came from. But we do know that we saved him and gave him a good home.
This picture was taken the day we met. The picture is not good quality, but it successfully captured the moment.
Remember Enya from the story about Ezra? well, we started a blog together. It's called
We Are The Dreamers
(very creative url). It's not much (yet), but it's sort of like a diary for us.
Speaking of Enya, we went to D.C. together last weekend. The trip was
technically
for the Swiss Independence day (her dad is from Switzerland), but we were both really super duper excited because we were going to
Free People
for the first time. It was a-may-zing. The store was as beautiful as the clothes. We probably tried on half the store, but only bought a couple of things. I bought
this dress
and a handmade wall decoration from inside the store. I haven't received the decoration yet (it's still on display in the store, but they'll ship it to me), but I am absolutely
in love
with the dress. It's so versatile and pretty. I still haven't gotten the pictures taken of us in the store from Enya's mother, but I'll ask her for them and probably post them. I have one picture on my instagram ( @_dreamalittlebigger_ ).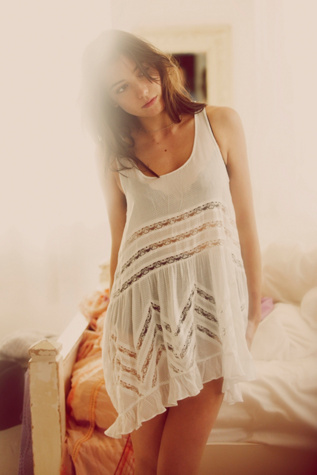 This is the dress. The picture is from the Free People website and does not belong to me (gotta give credit). Isn't it lovely? It can be worn with flats and delicate jewelry, or with boots and a cardigan. It can even be worn to bed and around the house, like in the Free People short film. The options really are unlimited. I just love the delicate lace details and tiny little polka dots.
The Swiss Independence Day celebration was really fun too. It was a neat new experience for me. Almost everyone spoke German and many spoke French. At the end all of the little kids formed a parade with lanterns and gathered around a bonfire while listening to Swiss music. Being volunteers, we managed to get our hands on a few lanterns and candles to join in the parade. It was so much fun! We played "soccer" (which was Enya, her brother Luca, and I kicking the ball into the goals and shouting while using silly fake names), bounced in the moon bounce, and rolled down a really big hill. There were three little girls that were triplets, probably about four years old, that spoke French to their mother and English to their father. It was a very interesting and fun experience.
My goal is to post at least once a month, which isn't much but is realistic for me. Just thought I'd let you know so that you can expect something. I hope you're all having a wonderful summer!
-Jade